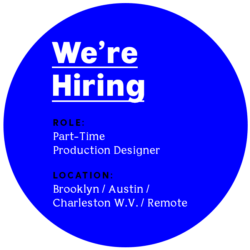 ROLE: Part-Time Production Designer
Location: Brooklyn, NY, Austin TX, Charleston, WV or Remote
Part-time: ~20 hours/week
JOB DESCRIPTION
Studio MESH is seeking a Part-Time Production Designer to aid with all things graphic production for our studio. As a Production Designer at Studio MESH, you will work closely with the Creative Director and Senior Designer to build and implement print, branding, and web design work for socially-driven creative companies and organizations.
Studio MESH is a fast-paced multi-disciplinary design studio that believes in a shared work atmosphere, collaboration, and equal ownership of the projects we produce. We engage directly with our clients — listening to their needs and working with them in a collaborative manner. It's important to us that to present our best work, we present our best selves. And at Studio MESH that means taking the time to rest, re-charge, and start fresh each week.
We operate out of several locations across the country. Our ideal candidate is in Brooklyn NY, Austin TX, or Charleston WV for some in-person collaboration, but we're open to remote locations too. It's important to us to get the right person on our team, rather than where you live. 
You're the ideal candidate if you:  
Are obsessed with the details.

 

You love alignment, tightening up text boxes, matching all the color swatches, and keeping things neat and tidy.

You ask the questions needed to understand what has to get done.

You can organize a file folder with ease and put the same love and attention into the file artboards, no matter the program.
Are a self-sustaining individual
You're comfortable taking your assignment and working on the task solo.

You're okay with making decisions with the information given to you to keep the project moving forward. 

You step in to help out with one of your teammates' projects where they need it. 
Are a great online or on the phone communicator

You are comfortable using technology to communicate between different offices and locations. We use Slack and Zoom daily to keep things running. 

You have clear and professional communication with a studio network, such as photographers, vendors, and printers.

Appreciate a small studio environment.
You thrive in a collaborative small studio environment.

You like switching it up between different projects often

You're happiest when you can help someone get the full picture accomplished.
Are inspired by social justice work and hard-working small businesses.
You have a passion for making impactful design for non-profits and small, local businesses across the U.S.
Responsibilities
Taking a newly designed branding system and building out the final brand package; saving out logomarks and other full brand visual systems.

Taking print work — including publications, reports, promotional pieces, packaging, and stationery sets — to the final stages and getting them production-ready.

Taking and making edits given by the team or a client to see the project to the finish line; from brand kits to full books. 

Aiding in creating and finalizing components for digital experiences and interactions, in a range of project scales and levels of complexity, from simple one-page sites to complex information systems. 

Stepping in to help with the small stuff; save out one-off graphics and/or organize a project folder to help everyone do their jobs efficiently.  

Be an active and engaged listener to understand your tasks at hand.

Manage your own time and efficiency. 

Communicate with team members to let them know when tasks are completed and when you have questions. 

Communicate with printers, photographers, and other vendors when needed.

Qualifications 
3 – 6 years experience in the design field, working at a small studio or agency,




with experience in:
Logo Design and Brand Identity Design Production

Campaign Visual Systems Production

Typographic Layout from Posters to Books (In-Design baby!)

Print Design creation

General Production (including working with printers and setting up print-ready files)

Web and digital Design, a plus

BA/BFA in graphic or communication design or similar

Fluency in Adobe Photoshop, InDesign, and Illustrator software 

Fluency in Sketch and a plus

Must be comfortable working on Dropbox

Competencies
Organization (we love clean files!) 

Decision-making and self-management

Active and reflective listening

Ability to transition quickly and seamlessly between projects
Does this sound like a good fit for you? Please send resume, work samples via a personal website or PDF, and cover letter to careers@meshfresh.com, Subject Line: Production Designer Application. Please tell us a little about yourself and how you would fit into this role at Studio MESH.
Studio MESH is an equal opportunity employer and we encourage anyone who fits the job description to apply